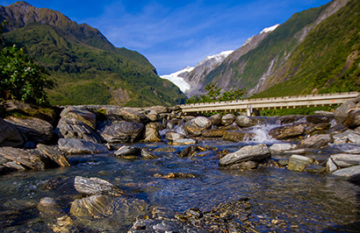 Explore Franz Josef Glacier
Franz Josef is a small but lively town in the heart of the West Coast, known for its 12 km long glacier. Surrounded by lush rainforest-clad mountains the township has a vibrant and bustling atmosphere. To see the ice from a viewpoint you can walk along the valley floor to the viewpoint below the terminal face. However, to go on the glacier itself you must take a licensed helicopter tour.
SUGGESTED ACTIVITY - Twin Glacier Scenic Helicopter Flight with The Helicopter Line
Take a spectacular scenic flight over two of New Zealand's most famous glaciers. Land at the head of one and view the incredible sight of this frozen river as it winds its way through ancient carved valleys. Should weather not be suitable to take this flight you are able to transfer your booking onto a similar tour on any of the Helicopter Line's operations in Queenstown or Mt Cook.
SUGGESTED ACTIVITY - Half Day Franz Josef Glacier Eco Tour
This tour starts with a short drive in the courtesy vehicle to the glacier carpark. Enjoy walking through regenerating forest for your first glimpse of the magnificent Franz Josef Glacier. Your experienced guide will take you off the beaten track as much as they can safely, to discover hidden waterfalls and 'dead' ice, and lots of other treasures. Your guide will keep you captivated with an amazing interpretation of glaciation, geology and the natural history of this incredibly dynamic environment, make the most of the amazing photo opportunities.
Suitable level for beginners and all ages and abilities. Easy to moderate walk.
SUGGESTED ACTIVITY - Glacier Hot Pools
Nestled within the lush rainforest surrounds, the Glacier Hot Pools is a haven of tranquillity. Unwind in one of the three main pools. Temperatures range from 36 to 40 degrees and the water comes directly from a glacial stream. Wash off the day and rejuvenate in this unique forest paradise.