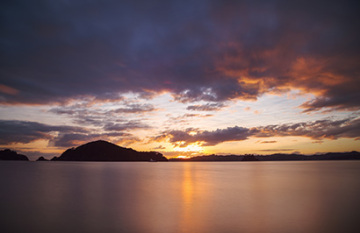 Explore the Bay of Islands
Commonly known as the 'winterless north' New Zealand's Bay of Islands is made up of over 140 subtropical atolls. Renowned for its untouched beaches, abundant marine life and idyllic climate, this tropical paradise ticks all the boxes. Spend some time on a remote stretch of beach, or see the dolphins on an ocean safari. If diving is your thing, take the morning to descend the Rainbow Warrior - The Greenpeace flagship sunk by French saboteurs in 1985. Wander around Russell, a whaling port founded in 1843. Learn about our culture in historic Waitangi, the site where The Treaty of Waitangi was signed in 1840 between the Maori and European settlers dictating the terms by which New Zealand would become a British colony. Alternatively you may like to take a day tour to Cape Reinga, the very top of the North Island.
SUGGESTED ACTIVITY - Hole in the Rock Cruise with Fullers GreatSights
Board your cruise and take in the stunning views as you glide out through the islands and along the Rakaumangamanga Peninsula to Cape Brett, where a historic lighthouse keeps watch over and Piercy Island/Motukōkako, or as it is popularly known the 'Hole in the Rock'. According to Māori legend, local warriors used to paddle through the Hole in the Rock in their canoes before departing for battle. Drops of water from the cave roof above were a good omen. If conditions permit, your skipper will expertly guide the ship through the narrow space. Keep an eye out for common and bottlenose dolphins, whales and other marine life during your cruise, and have your camera ready as you get up close to the action. The purpose-built catamaran is licensed by DOC (the Department of Conservation) for dolphin viewing and the crew have years of experience locating dolphins in these waters. Dolphin Seeker has indoor and outdoor seating available, and the largest outdoor viewing decks in the Bay of Islands.
SUGGESTED ACTIVITY - Waitangi Treaty Grounds Guided Tour and Cultural Performance
Waitangi is one of New Zealand's most historic sites where the Treaty of Waitangi was signed in 1840 between the local Maori and the British Government. This two day pass allows you access to the Treaty of Waitangi Grounds and includes admission to the Te Kōngahu Museum and Te Rau Aroha Museum and a Maori Cultural performance. During your guided tour, you'll learn about the history of the treaty and discover the stories and events that shaped New Zealand. The cultural performance inside the carved meeting house includes waiata (singing), poi, a display of Maori weaponry and the haka - a war dance New Zealand is well known for.