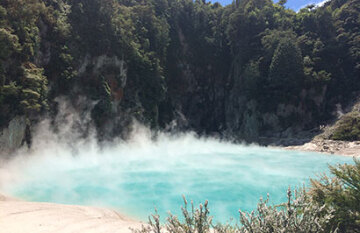 Eco Thermal Park Tour with Elite Adventures
See it all, the ultimate volcanic and geothermal Rotorua Tour. Learn about the huge colourful hot springs, erupting geysers and active boiling mud pools, spectacular volcanoes and lush native forest. All on a fully guided 1/2 day tour in Rotorua. You'll travel through forestry and farmland to NZ's largest boiling mud pool and a series of colourful hot springs at Wai-o-tapu. Then see the Lady Knox geyser erupt. Next a short drive to the Waimangu Volcanic valley where your guide will explain the Mt Tarawera eruption which blew open this spectacular, bush covered, geothermal park.
SUGGESTED ACTIVITY - Polynesian Spa Deluxe Lake Spa
Rotorua's Polynesian Spa offers a unique thermal spa experience on the shore of Lake Rotorua. You'll enjoy tranquil bathing and lake views in four shallow alkaline rock pools, each with different temperatures (36˚C to 42˚C). Here you are surrounded by revitalising native New Zealand flora, natural rocks, the sound of two waterfalls and a grotto. The pools are filled with soothing alkaline mineral water leaving your skin soft and supple. Relax in the outdoor relaxation area overlooking the four hot mineral pools and Lake Rotorua, here you can further unwind on the five geothermally heated recliners set in the stunning backdrop of New Zealand's lush and natural greenery. A large indoor relaxation lounge also overlooks Lake Rotorua, whereas a Lake Spa guest, you are welcome to move from the pools to the lounge once dried off and return to bathe in the Lake Spa pools as you wish. The Lake Spa is a unique thermal pool environment, where the atmosphere changes from day to night, and from winter steam to summer sparkle.
Te Pā Tū Evening Maori Cultural Experience
New Zealand's Most Awarded Cultural Attraction, presenting Te Pā Tū. Feast on song, drama, tradition, and divine seasonal kai (cuisine) within the forest Pā (village) blanketed by towering Tawa trees, blazing bonfires, and a forest-formed amphitheatre. Te Pā Tū shares Māori history, traditions, and cultural aspirations across 4-hours of celebration and feasting. These events change with each season of the maramataka, the Māori lunar calendar.