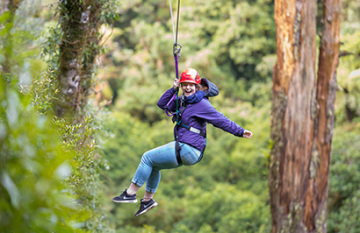 Explore Rotorua
Peppered with natural hot springs, boiling mud pools and steaming geysers, Rotorua sits within one of the worlds most active volcanic regions. Geothermal landmarks aside, this city of sulphur has a rich indigenous history. Home to several prominent Maori tribes, a visit to one of the Maori Villages should be high on your agenda, as should an excursion to the Polynesian Spa for an invigorating soak in its natural mineral hot springs.
Spike your adrenaline at Velocity Valley Adventure Park on stomach-dropping attractions such as static skydiving, or a giant swing reaching 130 km per hour. Alternatively, head up the Rotorua Gondola for soaring lake views, and ride the luge at night for an extra thrill.
Fans of Lord of the Rings and The Hobbit should drive to nearby Matamata and experience the actual movie set 'Hobbiton'. Make the most of your time in Rotorua with an excursion through the Wai-O-Tapu Thermal Wonderland, one of the area's most colourful volcanic attractions.
Mt. Tarawera & Waimangu Thermal Valley Scenic Flight by Floatplane
Fly over the site of the largest eruption in New Zealand's living memory, Mount Tarawera, and gain an appreciation of how the 1886 eruption changed this stunning landscape. From Mount Tarawera to the Waimangu Volcanic Valley, view the eruption trail and surrounding Lakes district whilst enjoying informed commentary from your experienced local pilot/guide, all combined with the thrill of taking off and landing on water at the Rotorua City Lakefront.
SUGGESTED ACTIVITY - Polynesian Spa Deluxe Lake Spa
Rotorua's Polynesian Spa offers a unique thermal spa experience on the shore of Lake Rotorua. You'll enjoy tranquil bathing and lake views in four shallow alkaline rock pools, each with different temperatures (36˚C to 42˚C). Here you are surrounded by revitalising native New Zealand flora, natural rocks, the sound of two waterfalls and a grotto. The pools are filled with soothing alkaline mineral water leaving your skin soft and supple. Relax in the outdoor relaxation area overlooking the four hot mineral pools and Lake Rotorua, here you can further unwind on the five geothermally heated recliners set in the stunning backdrop of New Zealand's lush and natural greenery. A large indoor relaxation lounge also overlooks Lake Rotorua, whereas a Lake Spa guest, you are welcome to move from the pools to the lounge once dried off and return to bathe in the Lake Spa pools as you wish. The Lake Spa is a unique thermal pool environment, where the atmosphere changes from day to night, and from winter steam to summer sparkle.