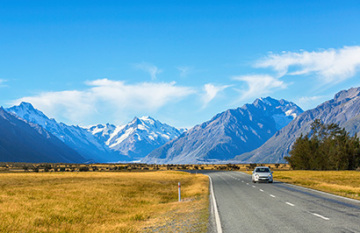 Collect your rental car
This tour can be priced with any of the rental cars available in our fantastic range, from economy hatchbacks to prestige saloons and SUVs.
Christchurch to Twizel (via Aoraki Mt Cook National Park)
Today you head into the heart of the South Island. Crossing the vast Canterbury Plains along the inland scenic route, Geraldine offers an ideal stop before you head into Mackenzie country. Ascending Burkes Pass, you'll enter New Zealand's high country. The picturesque town of Lake Tekapo, is the first of the large Southern Lakes on your journey. Enjoy the magnificent views from the shore, boat or air by taking a scenic flight. On arriving at Lake Pukaki, you'll be rewarded with a spectacular views of Aoraki Mt Cook, towering over the lake. Driving along the lake, you'll find your destination, Mt Cook Village. Enjoy Aoraki Mt Cook National Park by having a glacier landing with ski plane or helicopter, kayaking on a glacial lake or by walking one of the many tracks. At The Hermitage Hotel the Sir Edmund Hillary Centre is a must see. Return along the shores of Lake Pukaki to Twizel, your base for the evening.
SUGGESTED ACTIVITY - Sir Edmund Hillary Alpine Centre Museum and Theatre Explorer Pass
A tribute to New Zealand's Sir Edmund Hillary, a humanitarian, ambassador, and one of the world's greatest explorers. The centre showcases the Aoraki Mount Cook region, the history of climbing, and early transport used throughout the region. This comprehensive museum details the life of Sir Edmund Hillary, the Hermitage, and provides access to the 126-seat custom-designed theatre. Check out the daily film schedule which includes 3D Movies, documentaries, and 360-degree digital dome features.