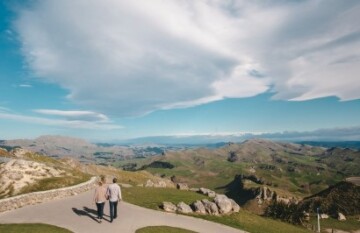 Explore Napier and the Hawke's Bay
With its Mediterranean climate and Art Deco style, Hawke's Bay is an attractive holiday prospect. As the nation's first winemaking region, a visit to one of its 30 wineries is a must. A trip to Mission Estate touted as the birthplace of NZ wine can't be missed. For the truly enthused head out on a tour of the vines. Those into Gatsby will enjoy the chance to view prominent Art Deco landmarks on a 1930s Vintage Car Tour. Passengers will spend just over an hour learning about the history of the city's architecture including the Napier Municipal Theatre, one of the top ten Art Deco Buildings in the world. If you're after some fresh air, hire a bike and take your pick of one of over 200km of cycling trails or head on down to one of the many beaches that ring the area. Ocean or Waimarama beach are good choices and both are patrolled by surf lifeguards during the summer. Indulge in some local produce and head out on a cheese, chocolate, honey or orchard tour. End on a high with another ride, this time in a comfortable trailer pulled by a tractor en-route to Cape Kidnappers Gannet Colony, the largest of its kind in the world.
SUGGESTED ACTIVITY - Gannet Safaris
Drive along the scenic coast from Napier to Te Awanga and join Gannet Safaris Overland and the world's largest, most accessible gannet colony at Cape Kidnappers. Gannet Safaris has been guiding visitors over Cape Kidnappers for over 35 years and their safaris are the only way to be driven right to within a few feet of these remarkable birds. You will travel in comfort in air-conditioned 4 x 4 wheeled vehicles, through Cape Kidnappers Station - traversing riverbeds, broad rolling pastures, stands of native bush, steep gullies and breath-taking inclines. There is a stop on the way at a spectacular cliff top with panoramic views of Hawke Bay right across to Mahia peninsular. The 36km, three hour trip includes a commentary by your tour guide/driver on the farming operation on Cape Kidnappers Station and an introduction to the gannets. On arrival at the gannets you can stretch your legs and take in the scenery from your position at the brink of the cliff's edge, 100 metres above the ocean!
SUGGESTED ACTIVITY - Grape Escape half day Hawke's Bay Wine tour
This wine tasting tour is designed for casual imbibers and wine aficionados. Meet like-minded people and share an appreciation of Hawke's Bay's fantastic wines. Taste great wines made with passion and learn of the areas unique growing conditions. Take home outstanding wines and wonderful memories. Join a fun filled wine tasting afternoon in the sun driving through absolutely stunning scenery. Meet like-minded people and share an appreciation of this region's fantastic wine. Visit four to five wineries and enjoy a cheese platter on the grounds of the Ngatarawa Vineyard beside the lily pond.
Walking tracks in and around Hawkes Bay
There are some excellent walks in and around the Hawkes Bay region. The information below is provided by the Department of Conservation. Listed below are a selection of short walks but check with the Department of Conservation information centre for weather conditions, track suitability and conditions first.
Tangoio Falls Scenic Reserve Tracks
Discover Te Ana or Tangoio Falls on a short, easy walk suitable for kids, or take a longer walk through native bush on the Tangoio Walkway. .
Distance: 2 - 4.4 km one way. Completion Time: 30 minutes to 2 hours depending on which track you choose.

White Pine Bush Scenic Reserve
Experience New Zealand's remaining coastal forest on these short, easy walks that are good for children.
Distance: 1.6 km loop. Completion Time: 40 minutes.

Ahuriri Estuary
View a community of wading birds, fish, mud dwellers and aquatic plant life from the estuary track and boardwalk. Over 70 species of resident and migratory waterbirds use the estuary as a feeding and resting area.
Distance: 2.8 km one way. Completion Time: 1 hour.

Te Mata Park
Te Mata Park has a rich human and geological history, and is home to a range of unique plants and native birds. The park has five different walking options varying in difficulty and distance.
Distance: 1.3 km - 5.4 km. Completion Time: 40 minutes - 1 hours 15 minutes.

Lake Tūtira
There are two main walks at Lake Tūtira, a short walk along the edge of the lake or a longer loop through the reserve. Both offer great views of the lake as well as native and introduced plant species.
Distance: 1.3 km - 5.4 km. Completion Time: 40 minutes - 1 hours 15 minutes.

Cape Kidnappers/Te Kauwae-a-Māui Walking Track
Follow the beach from Clifton to Cape Kidnappers/Te Kauwae-a-Māui alongside cliffs that show fragmented fault and tilt lines, recording the gradual rise of New Zealand. Black Reef is the first gannet nesting site, 7.5 km from Clifton. A 1 km climb takes you from the shelter on the beach to a benched area on the hill where you can view the second colony, and spectacular views of Hawke's Bay.
Distance: 19 km loop. Completion Time: 5 hour return.
SUGGESTED ACTIVITY - Silky Oak Triple Chocolate Temptation Tour
The Silky Oak Chocolate Co Ltd is a 100% New Zealand owned family business, with a proud reputation for producing exquisite handmade couverture (real) chocolates, using traditional methods. Silky Oak's handcrafted chocolate range has something for everyone and the Triple Chocolate Temptation tour is the best way to fully experience and appreciated these delights. Your guide will first explain chocolate making process at the factory, before accompanying you through the Chocolate Museum covering 3,000 years of chocolate history. The museum tells the story of a food whose past is as rich as its flavour, bought to life with colourfully illustrated texts, life sized tableaux, and a huge collection of chocolate paraphernalia, including a 2,500 year old Mayan Chocolate pot. You then get to sample the fabulous chocolate being produced here, including a chocolate drink (or tea/coffee), chocolate muffin/ slice, served with liquid chocolate and cream at our Café, you'll also enjoy a take home gift, chocolate of course.