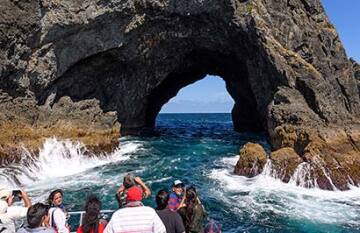 Auckland to Paihia by InterCity Coach
Heading north to the Bay of Islands takes you along the coast road past the seaside villages of Orewa and Waiwera. Then its on to the township of Puhoi, New Zealand's only Bohemian settlement, then Warkworth and the harbour side city of Whangarei and the unique township of Kawakawa. Arriving into the sub tropical Bay of Islands you are greeted with bush clad hillsides dropping to golden sand beaches. Paihia is the main tourist centre in the bay and has a great beach side atmosphere.
Bay of Islands (Paihia)
Paihia is considered the capital of the Bay of Islands. The town and surrounding area played a key role in shaping the history of New Zealand. Not long after Cook sailed into the bay in 1769, whaling and sealing ships began to arrive in numbers and ignite the inevitable conflict of two cultures. Just across the bay from Paihia you will find Russel, the first capital of New Zealand. These bustling tourist centres teem with cafes and shops and it is here you will find an abundance of activities to keep you occupied.
Things to do in the area range from getting onto the water by boat or kayak to dolphin spot, sail through the Hole in the Rock or even fish. If you'd rather see the place on your feet Waitangi Treaty Grounds gives you an insightful look at New Zealand's history and Russell offers the charm of the early 1800's. For those that wish to travel to the very tip of New Zealand Paihia provides you with a great base for journeying to Cape Reinga Lighthouse the very top of the north island.
Hole in the Rock Cruise with Fullers GreatSights
Board your cruise and take in the stunning views as you glide out through the islands and along the Rakaumangamanga Peninsula to Cape Brett, where a historic lighthouse keeps watch over and Piercy Island/Motukōkako, or as it is popularly known the 'Hole in the Rock'. According to Māori legend, local warriors used to paddle through the Hole in the Rock in their canoes before departing for battle. Drops of water from the cave roof above were a good omen. If conditions permit, your skipper will expertly guide the ship through the narrow space. Keep an eye out for common and bottlenose dolphins, whales and other marine life during your cruise, and have your camera ready as you get up close to the action. The purpose-built catamaran is licensed by DOC (the Department of Conservation) for dolphin viewing and the crew have years of experience locating dolphins in these waters. Dolphin Seeker has indoor and outdoor seating available, and the largest outdoor viewing decks in the Bay of Islands.
Paihia Central/coach stop to Paihia Accommodation with Dial-A-Ride
You will be transferred from Paihia Central to your accommodation.