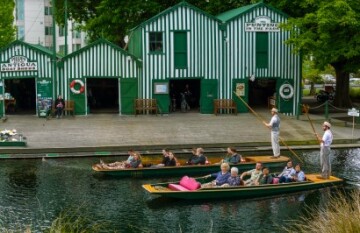 Collect your rental car
This tour can be priced with any of the rental cars available in our fantastic range, from economy hatchbacks to prestige saloons and SUVs.
Explore Christchurch City
Following the 2011 earthquake that razed its centre and much of the outlying suburbs, Christchurch is well into a billion-dollar makeover. In the middle of the Canterbury Plains, bordering the pacific ocean, New Zealand's newest city is an ideal gateway to exploring the middle of the South.
Go punting on the Avon River, take a historic tram ride, catch the gondola to the rim of an extinct volcano or do all three! See the world's only Cardboard Cathedral and for nature enthusiasts - wander the renowned Christchurch Botanic Gardens, or head to Oxford Terrace in the city to find a great spot to eat or drink.
Drive an hour in any direction to ski, mountain bike, wine taste, whale-watch, bungy jump or play golf. Take the winding Port Hills road to the French settlement of Akaroa and tour the vines in Waipara for an authentic New Zealand wine-tasting experience.
SUGGESTED ACTIVITY - Christchurch Gondola
In the Heathcote Valley, just fifteen minutes from the heart of Christchurch City, ride the Christchurch Gondola for nearly a kilometer to the collapsed rim of an extinct volcano, which exploded six million years ago. Take in the spectacular panoramic views of the central city, Lyttelton Harbour, Banks Peninsula, Canterbury Plains, and the distant peaks of the Southern Alps. Wander the summit complex, enjoy a coffee or lunch in the cafe, and choose one of many nature walks to explore or visit the Christchurch Discovery Rice, a dramatic reconstruction of the history of the Port Hills and Christchurch.
SUGGESTED ACTIVITY - International Antarctic Centre General Admission
The International Antarctic Centre aims to recreate the atmosphere and environment of Antarctica, providing visitors with an interactive, fun and educational experience. Feel the full Four Seasons of Antarctica, where you'll experience a custom-built snow and ice experience, then warm up in the Scott Base interior exhibit, a replica Antarctic field camp or other informative displays in the gallery. You'll also learn about life in modern day Antarctica, view real little blue penguins and experience a thrilling ride in a Hagglund all terrain vehicle.