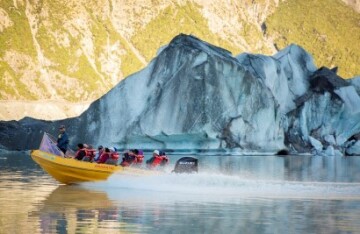 Collect your rental car
This tour can be priced with any of the rental cars available in our fantastic range, from economy hatchbacks to prestige saloons and SUVs.
Christchurch to Aoraki Mt Cook National Park
Today you'll drive through the heart of the South Island, crossing the vast Canterbury plains. Catch your breath in Geraldine before continuing through Fairlie. Ascending Burkes pass you'll come to the picturesque lakeside town of Tekapo.
Follow the road and take in the view of Aoraki Mt Cook (New Zealand's tallest mountain) from the shores of Lake Pukaki, known for its glacier fed turquoise blue colour. Continue along the lake to your final destination Mt Cook Village.
Please note: There are no food shops at Mt Cook, and dinner options are limited to one restaurant. If you wish to self-cater, you must stock up before arriving in Mt Cook, or make dinner reservations in advance.
Glacier Explorers Mt. Cook
Experience 500 year old icebergs up-close on the Mt Cook terminal lake. The Glacier Explorers tour is the only one of its kind in New Zealand and one of only three in the world! Very few glaciers terminate into lakes and even fewer of them are accessible. See towering ice cliffs and floating icebergs from the safety of a specially designed boat. These boats provide a safe way to view unseen and inaccessible areas of New Zealand's largest glacier The Tasman.
Sir Edmund Hillary Alpine Centre Museum and Theatre Explorer Pass
A tribute to New Zealand's Sir Edmund Hillary, a humanitarian, ambassador, and one of the world's greatest explorers. The centre showcases the Aoraki Mount Cook region, the history of climbing, and early transport used throughout the region. This comprehensive museum details the life of Sir Edmund Hillary, the Hermitage, and provides access to the 126-seat custom-designed theatre. Check out the daily film schedule which includes 3D Movies, documentaries, and 360-degree digital dome features.